Lifemark Health Group's 2018-2019 Annual Report: what's new and where we're heading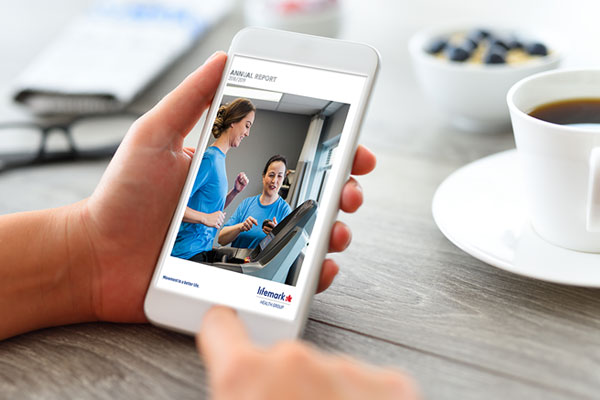 Toronto, ON – May 16, 2019 - Lifemark Health Group is pleased to announce the publication of its 2018-2019 Annual Report, which highlights successes from this past year, community stories from across Canada, new services and programs, and strategic priorities moving forward.
"2018 was a transformative year for Lifemark," said Peter Stymiest, Lifemark's Chief Executive Officer. "From our expansion into Quebec, to progression into mental health and pain management services, to the amazing talent we've brought into the organization, there was a lot to celebrate. I am pleased today to be able to share our 2018-2019 annual report, which showcases our incredible results and achievements from this past year and articulates a clear direction for the future. Looking back on 2018, I feel incredibly proud of Lifemark's team and the hard work they accomplish every day to ensure we deliver superior care. We have clearly made positive impacts on the lives of Canadians and have set ourselves up for continuing success."
For 2019, Lifemark has identified several key objectives. The company will, among other initiatives, continue to build its local presence by welcoming more centres into its network, grow its digital services, invest in its team through professional and leadership development so that they can deliver high quality care to Canadians across the country and enhance its infrastructure to ensure its systems are leading edge.
You can view and download Lifemark's 2018-2019 Annual Report right here.
 
About Lifemark Health Group
Lifemark Health Group is a market leader in customized healthcare solutions. With over 20 years of service excellence, Lifemark Health Group is one of the largest, most trusted, and most comprehensive providers in Canada. As a national healthcare company, Lifemark Health Group has over 2500 highly-trained clinicians and medical experts in over 200 locations coast-to-coast, and continues to grow steadily. With this growth is a vision to enrich the lives of Canadians through our community rehabilitation, workplace health and wellness and medical assessment services.
Lifemark Health Group was honored to be awarded the Employee Recommended Workplace award in 2019 for the second consecutive year. With patient satisfaction ratings greater than 90%, and many clinics CARF accredited (an internationally recognized accreditation rating), patients and customers receive the highest level of care and outcomes for their rehabilitation needs.
For media inquiries, please contact: 
Brenda Grob
Lifemark Health Group
(416) 873-0517
[email protected]