Helping people with pain: Lifemark Health Group rolls out its expanded pain management services
Helping people with pain: Lifemark Health Group rolls out its expanded pain management services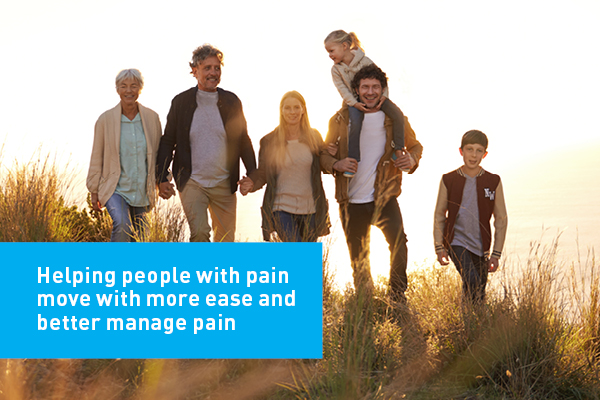 Toronto, ON October 11, 2019 - Lifemark Health Group is pleased to announce that it has launched its expanded pain management services, featuring the Lifemark Pain Care for Life program. Designed by a Canadian leader in pain management, this complete pain management program was developed for those living with persistent pain and incorporates modern pain science principles with pain management techniques and strategies.  Educational material, guided video exercises, electronic books, audio lessons, and interactive exercises are all included with the program to help individuals learn about pain and pain care.
The Lifemark Pain Care for Life program is practical, flexible and intended for use with the guidance of a healthcare professional, as well as for practice at home. It can be integrated into a more comprehensive personalized treatment plan developed by a Lifemark clinician. Individuals can complete the First 5 Steps of the program for free to learn more about the program and have the option of purchasing the remaining lessons online. To find out more, individuals can visit Lifemark.ca/services/pain or search the website for Lifemark clinics and clinicians in their area who offer the Pain Care for Life program.
"At Lifemark, much of what we do revolves around pain care and helping people recover from and manage their pain," said Peter Stymiest, Chief Executive Officer of Lifemark Health Group. "We work hard to help people get back to life, which is why we collaborated with Neil Pearson, a physiotherapist and Canadian leader in pain management, to offer webinars and training to Lifemark clinicians on pain management and to adapt his terrific Pain Care for Life program so that Lifemark patients can benefit from it. I am thrilled today to see the results of these efforts in the form of our new expanded pain management services, which I believe will help Canadians across the country move better and feel better."
About Lifemark Health Group
Lifemark Health Group (LHG) is a market leader in customized healthcare solutions. With over 20 years of service excellence, LHG is one of the most trusted and most comprehensive providers in Canada. As a national healthcare company, LHG has highly-trained clinicians and medical experts in over 225 locations coast-to-coast and continues to grow steadily. With this growth is a vision to enrich the lives of Canadians through our community rehabilitation, workplace health and wellness and medical assessment services.
Lifemark Health Group was honored to be awarded the Employee Recommended Workplace award in 2019 for the second consecutive year. With patient satisfaction ratings greater than 90%, and many clinics CARF accredited (an internationally recognized accreditation standard), patients and customers receive the highest level of care and outcomes for their rehabilitation needs.
For media inquiries, please contact:
Brenda Grob
Lifemark Health Group
(416) 873-0517
[email protected]