The Lifemark Health Group Hearts & Minds Award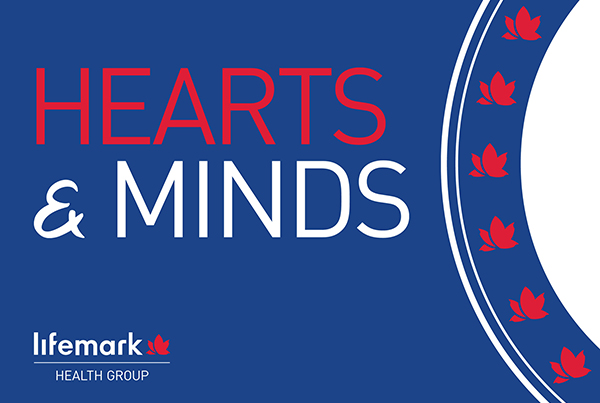 Toronto, ON – November 19, 2018 – Lifemark Health Group recognizes that our values guide our actions and interactions, which contributes to the greater good of our people, the organization and the services we provide.  The Hearts & Minds award, established in our 20th year, recognizes and celebrates deserving employees who bring our values to life on a daily basis and who demonstrate that our values are more than just words on a page.   
Congratulations are extended to Vera Ford, who in addition to being the Atlantic Region winner, was also chosen as our National award winner!  Congratulations as well to all our Regional winners, Hyun Kyung Kim, Tia Schnell, Tammie Richardson, Chris Philip, Julie Pelletier, Louie Deblois, Reagan Kettle, Brenda Ruiz, Pintu Uthuppan, Michelle Watton, Erin de Jong, and Geta Iurea.   
"We have a phenomenal team," said Peter Stymiest, CEO of Lifemark Health Group. "Individuals across the country consistently demonstrate our values and willingly go above and beyond for our clients, colleagues and communities. We are pleased to be able to recognize their contributions through the Hearts & Minds award."
The complete list of award winners includes:
Vera Ford, Office Manager, Lifemark Sport Saint Mary's, Halifax, Nova Scotia
Hyun Kyung Kim, Senior Account Manager, Vancouver Keefer, British Columbia
Tia Schnell, Billing Clerk / Program Evaluator, Calgary - Sunridge, Alberta
Tammie Richardson, Office Manager, Body Mechanics, London, Ontario
Chris Philip, Administrative Assistant, Pro Physio, Ottawa, Ontario
Julie Pelletier, Physiotherapist, Universelle, Vanier (Laval), Quebec
Louie Deblois, Case Coodinator, Medical Assessments East, North York, Ontario
Reagan Kettle, Business Manager, Medical Assessments West, Calgary, Alberta
Brenda Ruiz, Office Manager, Calgary -Quarry Park, Alberta,
Pintu Uthuppan, Physiotherapist Assistant, Henley Place, London, ON
Michelle Watton, Office Support, Whitby, Ontario
Erin de Jong, Manager, Client Service, North York, ON
Geta Iurea, Business Analyst, Toronto, Ontario
About Lifemark Health Group
Lifemark Health Group (LHG) is a market leader in customized healthcare solutions.  With over 20 years of service excellence, LHG is one of the largest, most trusted, and most comprehensive providers in Canada. As a national healthcare company, LHG has over 2500 highly-trained clinicians and medical experts in over 175 locations coast-to-coast, and continues to grow aggressively. With that growth is a vision to be the most innovative healthcare providers in community rehabilitation, workplace health and wellness and medical assessment services.
Lifemark Health Group was honored to be awarded the Employee Recommended Workplace award in 2018. With patient satisfaction ratings greater than 90%, and many clinics CARF accredited (an internationally recognized accreditation rating), patients and customers receive the highest level of care and outcomes for their rehabilitation needs.
For media inquiries, please contact:
Brenda Grob
Lifemark Health Group
(416) 873-0517
[email protected]