Lifemark Health Group announces a new partnership with Special Olympics Canada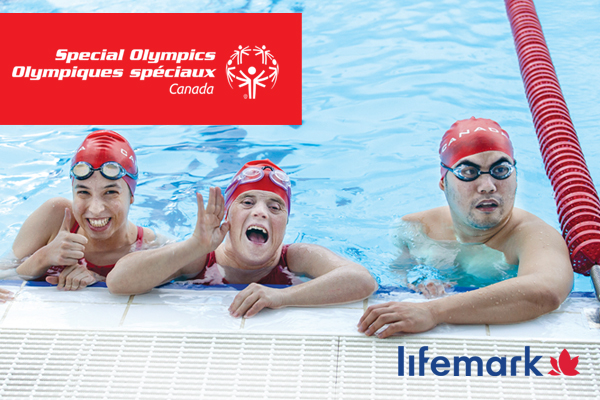 Toronto, ON June 6, 2019 – Lifemark Health Group is proud to announce a new national partnership with Special Olympics Canada to help enrich the lives of individuals with an intellectual disability through sport. In addition to financial support, Lifemark Health Group will provide healthcare services through the Healthy Athletes program, volunteer assistance at various national and regional events across the country, as well as post-event care for injured athletes at their clinics across Canada.
"Lifemark Health Group is proud to pledge our support to Special Olympics Canada as a National Partner and work with them to help improve the health and fitness of Special Olympics athletes," said Peter Stymiest, Chief Executive Officer at Lifemark Health Group. "Through involvement in the Healthy Athletes program, Lifemark physiotherapists and other clinicians will help deliver education and complimentary health screening services to the athletes. We are pleased to have found a partner that aligns with our vision, values, and commitment to improving the health of Canadians through movement."
Lifemark Health Group team members will act as strong advocates for Special Olympics athletes and their families, encouraging greater acceptance and inclusion within the local communities where they live and work through the belief that we are all more alike than different.
"We're thrilled to welcome Lifemark Health Group to the Special Olympics Canada family," said Special Olympics Canada CEO Sharon Bollenbach. "As one of Canada's largest and most comprehensive healthcare service providers, Special Olympics athletes across the country will benefit enormously from the support of physiotherapists and clinicians providing healthcare services."
About Special Olympics Canada 
Special Olympics Canada is dedicated to enriching the lives of Canadians with an intellectual disability through the transformative power and joy of sport. Operating out of sports clubs in 12 provincial and territorial Chapters, this grassroots movement reaches beyond the sphere of sport to empower individuals, change attitudes and build communities. From two-year-olds to mature adults, more than 47,500 athletes with an intellectual disability are registered in Special Olympics year-round programs across Canada. They are supported by more than 21,000 volunteers, including more than 16,000 trained coaches. For more information, visit www.specialolympics.ca or follow us on Facebook, Instagram and Twitter @SpecialOCanada.
About Lifemark Health Group
Lifemark Health Group (LHG) is a market leader in customized healthcare solutions. With over 20 years of service excellence, LHG is one of the largest, most trusted, and most comprehensive providers in Canada. As a national healthcare company, LHG has over 2500 highly-trained clinicians and medical experts in over 225 locations coast-to-coast, and continues to grow steadily. With this growth is a vision to enrich the lives of Canadians through our community rehabilitation, workplace health and wellness and medical assessment services.
Lifemark Health Group was honored to be awarded the Employee Recommended Workplace award in 2019 for the second consecutive year. With patient satisfaction ratings greater than 90%, and many clinics CARF accredited (an internationally recognized accreditation rating), patients and customers receive the highest level of care and outcomes for their rehabilitation needs.
For media inquiries, please contact:
Brenda Grob
Lifemark Health Group
(416) 873-0517
[email protected]