An important step forward in Alberta: Lifemark Health Group acquires Active Physio Works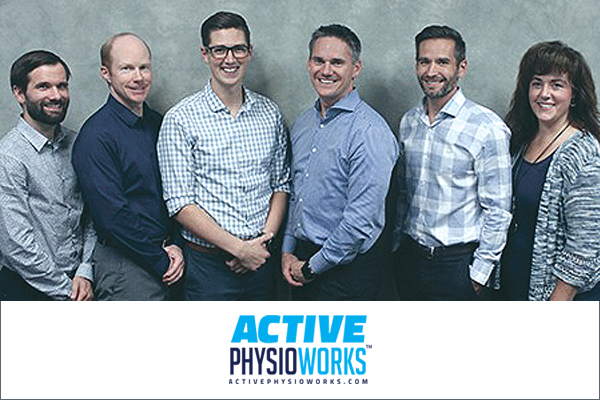 Toronto, ON June 25, 2019 - Lifemark Health Group is delighted to announce that it has recently acquired Active Physio Works, which has clinics in St. Albert, Edmonton and Fort Saskatchewan, Alberta. This acquisition increases Lifemark's footprint in sports therapy and acute care rehabilitation services in St. Albert and Edmonton. It also provides Lifemark with its first location in Fort Saskatchewan, Alberta.
The Active Physio Works clinics have been providing quality multi-disciplinary services since 2001. Active Physio Works' skilled Physiotherapists and Massage Therapists offer a variety of treatment techniques to help patients return to optimal mobility and physical function and get them moving again. The therapists and staff are also proud members of their communities in St. Albert, Edmonton and Fort Saskatchewan, working with a variety of events and fundraisers throughout the year.
James Dean will take on the role of Area Manager while Ed Shields will remain in his role as Clinic Director and Physiotherapist at Kensington. Graham Glennie will continue in his role as Clinic Director and Physiotherapist at Tudor Glen, Bobby McGugan will also continue in this same capacity at Servus Place and the Magrath location will continue to be led by Tyler Gamblin, Clinic Director and Physiotherapist. Lastly, Michele Rowein will be focusing her time on clinical work as she continues in her role as a Physiotherapist at Servus Place.
"Active Physio Works' strong skillset, caring staff and patient-centric approach will allow us to offer our quality healthcare services in new communities, enabling us to reach more Canadians," said Peter Stymiest, Chief Executive Officer of Lifemark Health Group. "Everyone at Lifemark is excited to work with James Dean and the incredibly talented therapists and staff that make up the Active Physio Works teams. Welcome!"
About Lifemark Health Group
Lifemark Health Group (LHG) is a market leader in customized healthcare solutions. With over 20 years of service excellence, LHG is one of the most trusted, and most comprehensive providers in Canada. As a national healthcare company, LHG has highly-trained clinicians and medical experts in over 225 locations coast-to-coast, and continues to grow steadily. With this growth is a vision to enrich the lives of Canadians through our community rehabilitation, workplace health and wellness and medical assessment services.
Lifemark Health Group was honored to be awarded the Employee Recommended Workplace award in 2019 for the second consecutive year. With patient satisfaction ratings greater than 90%, and many clinics CARF accredited (an internationally recognized accreditation standard), patients and customers receive the highest level of care and outcomes for their rehabilitation needs.
For media inquiries, please contact:
Brenda Grob
Lifemark Health Group
(416) 873-0517
[email protected]