Continuing to grow in Ontario: Lifemark Health Group adds 7 new clinics to its network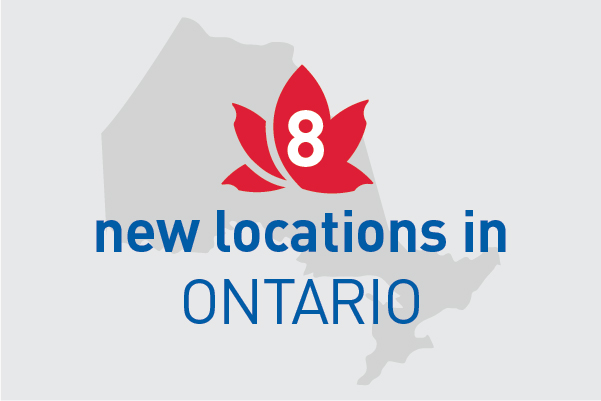 Toronto, ON July 17, 2019 - Lifemark Health Group is pleased to announce that it has recently added several new clinics to its network, allowing Lifemark to better serve communities across Ontario. These clinics are Belleville Physiotherapy, Summit Physiotherapy in Kingston, Stonetown Physiotherapy in St. Marys and Mitchell, Peterborough Physiotherapy, Lakefield Physiotherapy and The Sports Medicine Specialists in Brampton.
Belleville Physiotherapy was the first private physiotherapy practice in Belleville. Since opening its doors in 1988, the clinic has demonstrated a steadfast commitment to patient satisfaction and helping clients recover optimal mobility and function.
Summit Physiotherapy is well-known in Kingston East as a caring and patient-focused clinic that prioritizes their patients' wellbeing and experience. The clinic has been Kingston East's most trusted physiotherapy and massage therapy provider since its opening in 2013 and its stellar reputation speaks for itself. Summit Physiotherapy's previous owner, Nicole Vaillancourt, physiotherapist, will be continuing as Clinic Director and treating clinician at Summit.
Originally established in 2005 in the town of St. Marys, Stonetown Physiotherapy & Sports Injuries Clinic has always provided excellence in care to people coming from all walks of life. The success of the St. Marys clinic allowed the team to open a second site in Mitchell in 2011. Much of this success can be directly attributed to former owner Meg Smith, who will be staying as Clinic Director for both the St. Marys and Mitchell locations.
The Peterborough Physiotherapy & Sports Injuries Clinic has been serving the community for over 25 years. The clinic's strong reputation for high-quality care is built on principles of injury prevention and safe rehabilitation.
Lakefield Physiotherapy has been providing innovative, high-quality services to the community for the past 10 years. The clinic has maintained an excellent reputation in part due to its focus on community-based care.
Established in 2000, The Sports Medicine Specialists clinic in Brampton is located in the old site of the original Brampton YMCA. The clinic is now recognized as a leader in the field of sports medicine and treating injuries in Brampton and the surrounding areas. Dr. Gary Abraham will remain in a leadership role within the clinic, taking on the role of Clinic Director.
"Adding these clinics to our network means Lifemark will be able to reach new communities and better serve Canadians across Ontario," said Peter Stymiest, Chief Executive Officer of Lifemark Health Group. "We will also greatly benefit from their teams' wealth of knowledge, caring and experience, so we couldn't be more thrilled to welcome these new clinics to the Lifemark family."
About Lifemark Health Group
Lifemark Health Group (LHG) is a market leader in customized healthcare solutions. With over 20 years of service excellence, LHG is one of the most trusted, and most comprehensive providers in Canada. As a national healthcare company, LHG has highly-trained clinicians and medical experts in over 225 locations coast-to-coast, and continues to grow steadily. With this growth is a vision to enrich the lives of Canadians through our community rehabilitation, workplace health and wellness and medical assessment services.
Lifemark Health Group was honored to be awarded the Employee Recommended Workplace award in 2019 for the second consecutive year. With patient satisfaction ratings greater than 90%, and many clinics CARF accredited (an internationally recognized accreditation standard), patients and customers receive the highest level of care and outcomes for their rehabilitation needs.
For media inquiries, please contact:
Brenda Grob
Lifemark Health Group
(416) 873-0517
[email protected]