200+ clinics in 20 years - Celebrating Lifemark Health Group's 20th Anniversary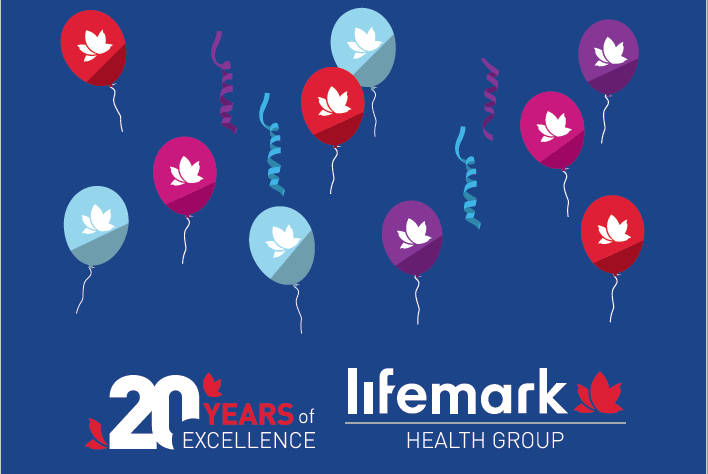 Toronto, ON – December 1, 2018 – This year marks the 20th Anniversary of Lifemark Health Group.  The company started in 1998 as a small group of 17 physiotherapy clinics in Ontario. In just 20 years it has grown to become one of Canada's largest and most trusted national healthcare providers. With a focus on physiotherapy and other comprehensive rehabilitation services, Lifemark has evolved to meet client needs through diversification into medical assessments, seniors wellness, home care and workplace health and wellness.  
A major milestone was achieved during the year, with the number of clinic locations surpassing 200. "While it took us 18 years to reach the 100 clinic mark, we've been able to double that number in just under three years," said Peter Stymiest, CEO of Lifemark Health Group. "This achievement reflects our focus to increase our presence in communities of all sizes, so we can help more Canadians move to a better life. As we grow, we become stronger through expansion into new geographical areas, acquisition of new people and leaders, integration of new services and adoption of fresh ideas."
About Lifemark Health Group
Lifemark Health Group (LHG) is a market leader in customized healthcare solutions.  With over 20 years of service excellence, LHG is one of the largest, most trusted, and most comprehensive providers in Canada. As a national healthcare company, LHG has over 3500 highly-trained clinicians and medical experts in over 200 locations coast-to-coast, and continues to grow aggressively. With that growth is a vision to be the most innovative healthcare providers in community rehabilitation, workplace health and wellness and medical assessment services.
Lifemark Health Group was honored to be awarded the Employee Recommended Workplace award in 2018. With patient satisfaction ratings greater than 90%, and many clinics CARF accredited (an internationally recognized accreditation rating), patients and customers receive the highest level of care and outcomes for their rehabilitation needs.
For media inquiries, please contact:
Brenda Grob
Lifemark Health Group
(416) 873-0517
[email protected]