Concussions: myths, facts, and recovery guidelines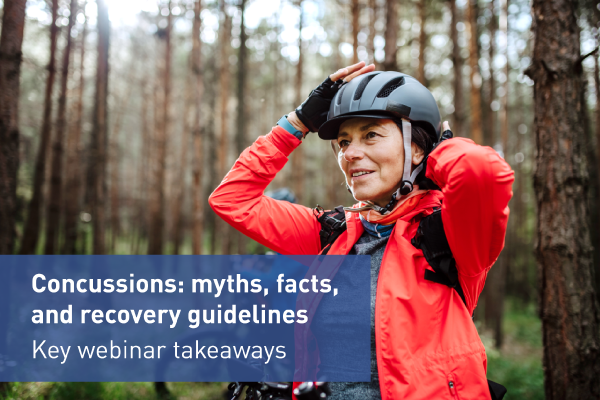 TORONTO, ON – September 27, 2023, Lifemark Health Group hosted a webinar in honour of Rowan's Law Day, on how to identify concussion injuries, myths around management, and steps to return to learning, work, or home related activities. 
The panel included Lifemark's very own knowledgeable registered physiotherapists Janine Ankenmann and Cregg Webber, who explored the common symptoms of a concussion, tools for recovery, and steps for return to activity post injury. 
Attendees found the webinar informative and helpful as the Lifemark physiotherapists discussed how to identify whether a concussion has taken place, what symptoms to watch out for, and when to seek immediate care from a health or medical professional. They also examined common myths about management, including the amount of rest required post-injury. The speakers highlighted the importance of early assessment as a predictor of good outcomes as no two concussion injuries are alike. Individualized treatment, along with education and a gradual increase in activity promote a safe recovery. 
"We were very pleased to share our knowledge in post-concussion management, helping people understand the importance of early assessments as a predictor of positive health outcomes, and providing tools and steps towards a safe return to activity," said registered physiotherapist and Clinic Director, Cregg Webber.  
You can read the full summary of the blog and view the recording of the webinar here. 
About Lifemark Health Group  
Lifemark Health Group is a Canadian leader in community rehabilitation, workplace health and wellness and medical assessment services. With over 20 years of service excellence, Lifemark Health Group is a comprehensive and trusted health provider with 3 million patient visits annually, and employs over 5,000 highly trained clinicians, medical experts and team members.  
As Canada's largest physiotherapy company, Lifemark is passionate about enriching the health of Canadians through movement. Lifemark's commitment to health and wellness extends beyond patient care, to the entire team, as evidenced through an award-winning culture.  
For media inquiries, please contact  
Brenda Grob  
Lifemark Health Group  
(416) 873-0517  
[email protected]