Announcing The Lifemark Scholarships for Black and Indigenous Students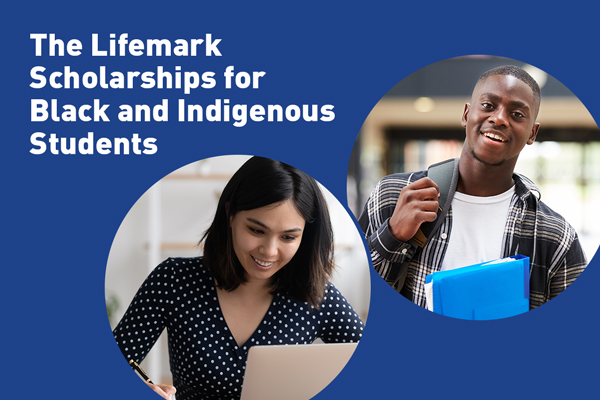 Toronto, ON -  February 7, 2022, Lifemark Health Group is pleased to announce the Lifemark Scholarships for Black and Indigenous Students. The scholarships were created to support diversity within the Occupational Therapy and Physiotherapy professions.
These annual scholarships are available to students from Black and Indigenous communities. They provide financial support in the form of a $5,000 award for those pursuing post-secondary learning in a recognized Occupational Therapy or Physiotherapy Masters program in Canada.
Applications are now open and will remain so until May 31st, with two scholarships being awarded for the fall semester. To find out more and apply, see the links below:
Lifemark Scholarship for Black Students
Lifemark Scholarship for Indigenous Students
"We remain committed to improving access to healthcare and increasing accessibility to the healthcare profession for underrepresented communities" said Peter Stymiest, CEO of Lifemark Health Group. "These scholarships represent an important step forward in our efforts to address existing barriers and challenges, as we continually work towards greater representation, diversity, and inclusion."  
About Lifemark Health Group
Lifemark Health Group is a market leader in customized healthcare solutions. With over 20 years of service excellence, Lifemark Health Group is one of the largest, most trusted, and most comprehensive providers in Canada. As a national healthcare company, Lifemark Health Group employs over 5,000 highly trained clinicians, medical experts and team members in over 300 locations coast-to-coast. The company aims to be the most innovative healthcare provider in community rehabilitation, workplace health and wellness and medical assessment services.
Lifemark is the rehabilitation division of Lifemark Health Group.  As Canada's largest physiotherapy company, Lifemark is passionate about enriching the health of Canadians through movement. Patients receive quality care from a family of Lifemark brands including pt Health, Physiothérapie Universelle and Pro Physio and Sport Medicine Centres. Lifemark's experienced clinicians help patients reduce pain, increase mobility and get back to life.
For media inquiries, please contact
Brenda Grob
Lifemark Health Group
(416) 873-0517
[email protected]