2023 Recipients for The Lifemark Scholarship for Black and Indigenous Students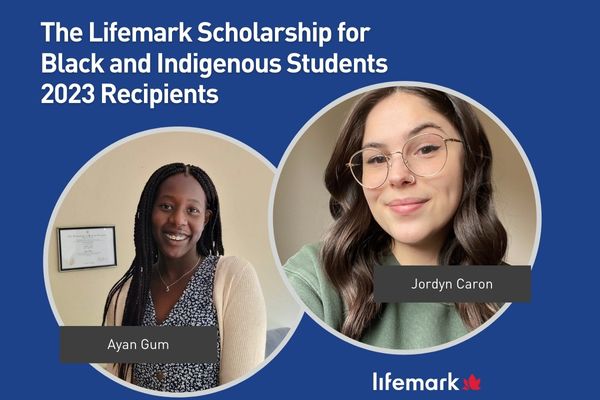 TORONTO, ON – April 10, 2023, Lifemark Health Group is excited to announce the recipients of this year's Lifemark Scholarships for Black and Indigenous Students: Ayan Gum and Jordyn Caron! Ayan and Jordyn are occupational therapy students currently pursuing their Masters in programs at University of British Columbia and University of Toronto, respectively. 
The Lifemark Scholarships for Black and Indigenous Students were created to support diversity within the occupational therapy and physiotherapy professions. These scholarships reflect our efforts to address existing barriers and challenges and increase accessibility to the healthcare profession for underrepresented communities. 
The annual scholarships are available to students from our Black and Indigenous communities and provide financial support in the form of a $5,000 award for those pursuing post-secondary learning in a recognized Occupational Therapy or Physiotherapy Master's program in Canada.  
"Both Ayan and Jordyn have demonstrated a strong desire to give back to their community and are aligned with the spirit of the Lifemark motto, movement to a better life." said Dave Reddy, SVP of Human Resources, Ontario with Lifemark Health Group. "We are thrilled to recognize them with this scholarship." 
 
About Lifemark Health Group 
Lifemark Health Group is a Canadian leader in community healthcare, workplace health and wellness and medical assessment services. With over 20 years of service excellence, Lifemark Health Group is a comprehensive and trusted health provider with 3 million patient visits annually, and employs over 5,000 highly trained clinicians, medical experts and team members. 
As Canada's largest physiotherapy company, Lifemark is passionate about enriching the health of Canadians through movement. Lifemark's commitment to health and wellness extends beyond patient care, to the entire team, as evidenced through an award-winning culture. 
For media inquiries, please contact 
Brenda Grob 
Lifemark Health Group 
(416) 873-0517 
[email protected]