Celebrating another successful year with the Blue Nose Marathon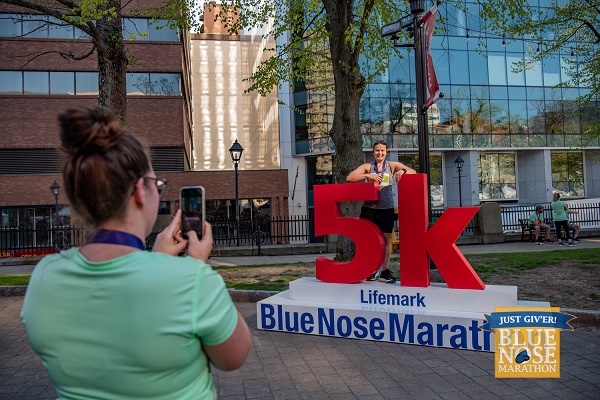 Toronto, ON – May, 26 2022, Lifemark Health Group was pleased to support the Royal Le Page Blue Nose Marathon events over the Victoria Day weekend in Halifax. A sponsor of the 5 km event again this year, Lifemark supported the runners at the Lifemark water station and hosted a Physiotherapy & Massage Centre for post-race recovery treatment.
Over 6,000 runners took part in the race weekend in Halifax. To help prepare some of the runners, the Lifemark Atlantic Operations Team assisted as the official training partner with Team Myles. The Team Myles ambassador program is a special program within the Royal Le Page Blue Nose Marathon for people to train for the 5KM or 10KM race. Lifemark team members volunteered their time to provide coaching, plus education about injury prevention, exercise, running, technical gear, diet and nutrition.
"We were happy to continue our partnership with the Blue Nose Marathon, and show our support to this wonderful community event in Nova Scotia," said Linda Langley, VP Operations, Atlantic, Lifemark Health Group. "It was exciting to see so many of our team demonstrate their excitement and support for the Marathon. Congratulations to all of the participants, and thank you to all of the volunteers who made this a truly special weekend."
About Lifemark Health Group
Lifemark Health Group is a Canadian leader in community healthcare, workplace health and wellness and medical assessment services. With over 20 years of service excellence, Lifemark Health Group is a comprehensive and trusted health provider with 3 million patient visits annually, and employs over 5,000 highly trained clinicians, medical experts and team members.
Lifemark is passionate about enriching the health of Canadians through movement. Lifemark's commitment to health and wellness extends beyond patient care, to the entire team, as evidenced through an award-winning culture.
For media inquiries, please contact
Brenda Grob
Lifemark Health Group
(416) 873-0517
[email protected]