Celebrating excellence in clinical teaching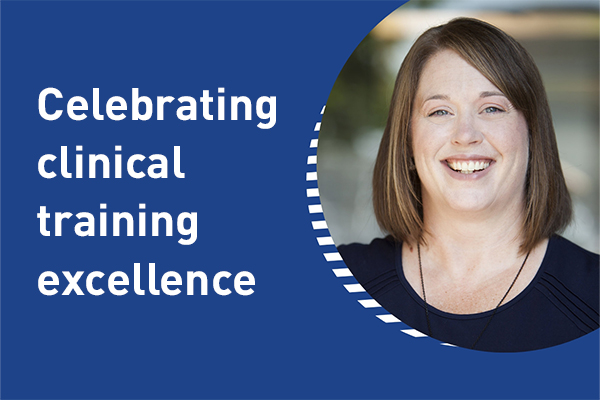 Toronto, ON – May 27, 2022, Lifemark Health Group is pleased to announce that Krista McIntyre, Reg. PT., M.Sc.PT., H.B.K., National Director of Program Development & Specialty Services, was acknowledged with the University of Toronto Department of Physical Therapy Recognition Award, which celebrates valued contribution to the education of Physical Therapy students.
As a clinical instructor, Krista has provided an extraordinary educational experience and has positively influenced physical therapy students while in their academic and clinical environment.
When the pandemic put clinical placements at risk for many physiotherapy and occupational therapy students, Krista stepped in, and through innovation and flexibility, created an authentic learning environment. Through her guidance, students developed important skills for patient care using empathy and connection, advocacy for health and wellness, and creative problem solving and solution based approach. The sessions were presented as a mix of in-person and virtual experiences.
"Clinical mentorship is an essential aspect in healthcare professional training. It enables students to receive support and guidance as they learn and practice new skills," said Krista McIntyre.  "Mentors played an important role in my professional development, and at Lifemark we foster positive, empowering relationships. I incorporate the same values when teaching my students."
Krista has supervised 28 students, 9 of them at the University of Toronto, over the past year and has made meaningful contributions to the clinical education curriculum. The U of T physiotherapy students she has supervised shared that they valued her mentorship and guidance throughout their placements, how quickly she would respond to their requests, as well as her constructive feedback and encouragement. 
"While many obstacles were encountered as a result of the pandemic, we are proud of Krista for being adaptive and creative in finding solutions to not only make clinical mentorship possible, but also an enriching experience for her students," said Liz Ballantyne, Senior Vice President, Strategic Initiatives & Innovation. "We are grateful for the University of Toronto for the recognition."
About Lifemark Health Group
Lifemark Health Group is a Canadian leader in community healthcare, workplace health and wellness and medical assessment services. With over 20 years of service excellence, Lifemark Health Group is a comprehensive and trusted health provider with 3 million patient visits annually, and employs over 5,000 highly trained clinicians, medical experts and team members.
As Canada's largest physiotherapy company, Lifemark is passionate about enriching the health of Canadians through movement. Lifemark's commitment to health and wellness extends beyond patient care, to the entire team, as evidenced through an award-winning culture.
For media inquiries, please contact
Brenda Grob
Lifemark Health Group
(416) 873-0517
[email protected]