Introducing the Post COVID-19 Rehabilitation and Recovery Program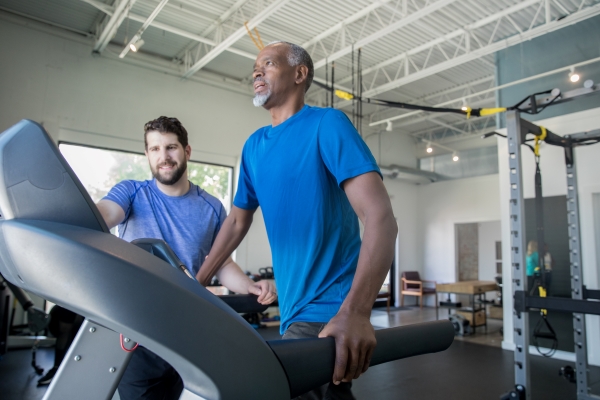 Toronto, ON – October 5, As the COVID-19 pandemic continues to impact Canadians from coast to coast, Lifemark Health Group remains committed to developing new ways to support those that have been affected by the virus.
That's why we're excited to announce the launch of our Post COVID-19 Rehabilitation and Recovery Program.
If you've been dealing with pandemic related anxiety, struggling to return to work, or if you've recovered from the virus but continue to experience debilitating symptoms – we're here to help. The program is designed to tailor to your unique healthcare needs. Our professionals will examine your medical history and work closely with doctors and other specialists (with your consent), to ensure that your treatment plan is right for you.
The Lifemark Health Group multi-disciplinary approach to post COVID-19 rehabilitation involves professionals from over 15 disciplines, from physiotherapists to registered nurses and dieticians.
Whether you need physical exercise, manual therapy, vestibular therapy or cognitive behavioral therapy, we'll design a plan that gives you the care you need to help you get back on your feet.
The program will "address the post-acute and long-term needs as more and more people are affected by this pandemic" said Gilles Chabot Chief Operating Officer, Clinic Operations of Lifemark Health Group."The program was developed in collaboration with top healthcare professionals and rooted in the latest research. We will continue to enhance the program as we learn more about the virus and the lingering issues that arise for people long after the virus is over."
About Lifemark Health Group
Lifemark Health Group (LHG) is a market leader in customized healthcare solutions. With over 20 years of service excellence, LHG is one of the largest, most trusted, and most comprehensive providers in Canada. As a national healthcare company, LHG employs over 5,000 highly-trained clinicians, medical experts and team members in over 300 locations coast-to-coast. The company aims to be the most innovative healthcare provider in community rehabilitation, workplace health and wellness and medical assessment services.
Lifemark Health Group was honoured to receive the Employee Recommended Workplace award in both 2018 and 2019, and the Canada's Most Admired Corporate Cultures™ award in 2019. With patient satisfaction ratings above 90% and many clinics accredited by CARF and Accreditation Canada, Lifemark's patients and customers always receive the highest level of care for their rehabilitation needs.
For media inquiries, please contact
Brenda Grob
Lifemark Health Group
(416) 873-0517
[email protected]