Congratulations to the Lifemark Health Group Hearts & Minds award winners for 2020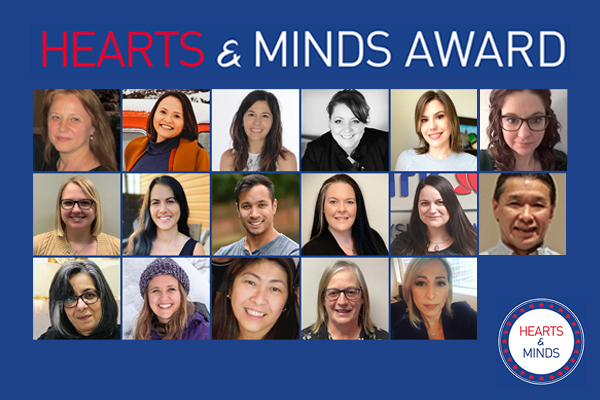 Toronto, ON December 20, 2020 – Lifemark Health Group is pleased to recognize the recipients of its third annual Hearts & Minds awards, which recognizes deserving team members who embody Lifemark's values every day.
The 2020 National Award recipient is Dejana Savic, a Customer Service Representative from Lifemark Physiotherapy (Heritage Hill) in Calgary. Dejana is also an award recipient in Lifemark's Clinic Operations – Prairies business segment.  
A Special Recognition award was also given to Melissa St. Pierre, a Customer Service Representative at Lifemark NeuroLogic Physiotherapy St-Laurent in Ottawa. Melissa is also an award recipient in Lifemark's Clinic Operations business segment.
Congratulations to the rest of our business segment Hearts and Minds award recipients:
Kevin Hehr, Clinic Director, Lifemark Physiotherapy Langley, Langley, BC
Corina Bohnet, Director, Corporate Safety & Risk Management
Cathleen Ladaran, Office Manager, Lifemark Physiotherapy South Trail Calgary, AB
Christina Sawula, Occupational Therapist at Community Advantage Rehabilitation, Whitby, ON
Jamie Hunter, Patient Coordinator, Bowmanville Physiotherapy and Sports Medicine Centre - pt Health, Bowmanville, ON
Regaa Ibrahim, Office Manager at Pro Physio & Sport Medicine Centres Gloucester, Ottawa, ON
Beatrice Stoicescu, Billing Team Lead, Viewpoint, North York, ON
Sara Hodgins, Director of Business Services, pt Health, Burlington, ON
Shelly Carta, Physiotherapist, Chartwell-The Woodhaven, Markham, ON
Wally Ows, Kinesiologist, Lifemark Physiotherapy Pelham & Glendale, St. Catharines, ON
Tia Levan, Vice President, AssessMed, Mississauga, ON
Véronique Viel, Clinical Coordinator, Physiothérapie Universelle, Quebec
Jessy Martel, Office Manager, Physiothérapie Universelle, St-Hyacinthe, Quebec
Shirley Phillips, Office Manager, Lifemark Purdy's Landing, Halifax, NS
May MacGregor, Office Manager, Lifemark Sport - Canada Games Centre, Halifax, NS
"The 2020 Hearts & Minds winners exemplify our Lifemark values," said Dave Reddy, VP of Human Resources, Lifemark Health Group. "Whether it's providing a positive patient experience, coaching others, ensuring the health and safety of our patients and one another, or by going the extra kilometer, these exceptional team members have made a lasting impact on our team, patients and clients during this challenging year." On behalf of Lifemark, we congratulate and thank all of our recipients as well as all team members nominated for Lifemark's Hearts and Minds Awards. 
About Lifemark Health Group
Lifemark Health Group (LHG) is a market leader in customized healthcare solutions. With over 20 years of service excellence, LHG is one of the largest, most trusted, and most comprehensive providers in Canada. As a national healthcare company, LHG employs over 5,000 highly-trained clinicians, medical experts and team members in over 300 locations coast-to-coast. The company aims to be the most innovative healthcare provider in community rehabilitation, workplace health and wellness and medical assessment services.
Lifemark Health Group was honoured to receive the Employee Recommended Workplace award in both 2018 and 2019, and the Canada's Most Admired Corporate Cultures™ award in 2019. With patient satisfaction ratings above 90% and many clinics accredited by CARF and Accreditation Canada, Lifemark's patients and customers always receive the highest level of care for their rehabilitation needs.
For media inquiries, please contact
Brenda Grob
Lifemark Health Group
(416) 873-0517
[email protected]