Congratulations to the Lifemark Health Group Hearts & Minds award recipients for 2021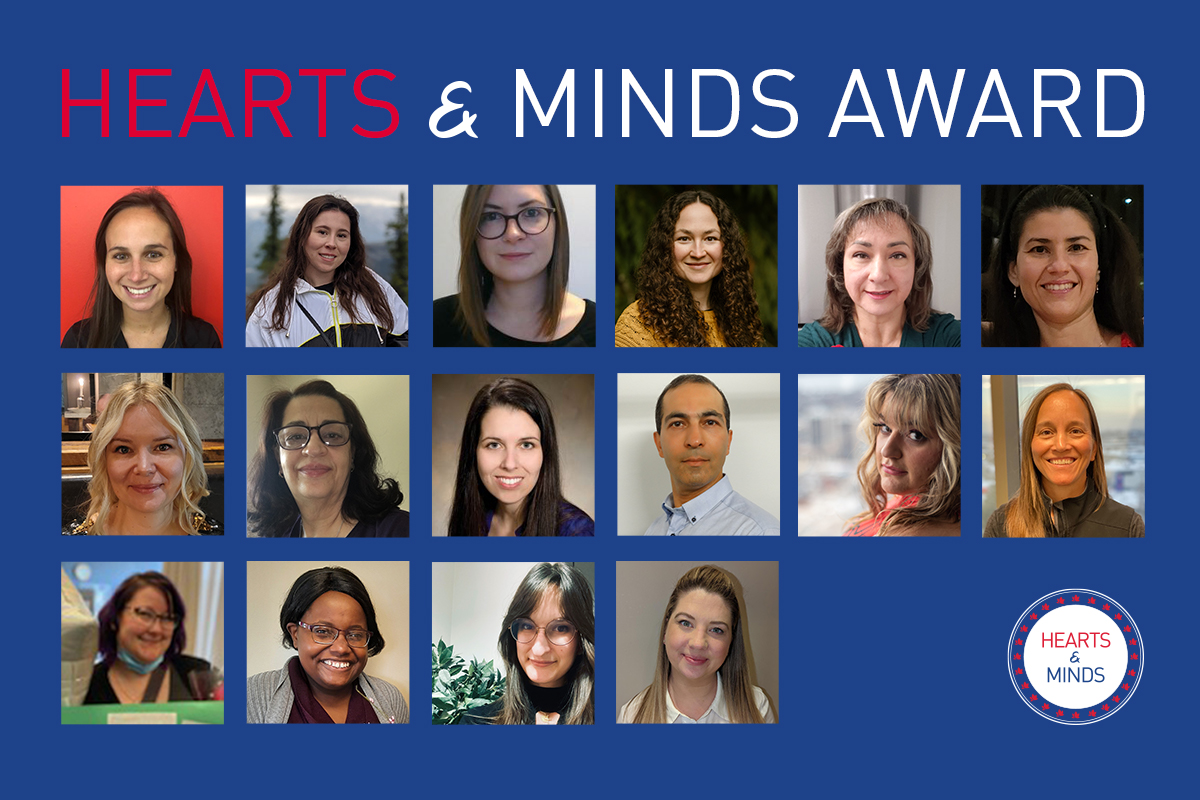 Toronto, ON -  March 4, 2022, Lifemark Health Group is pleased to recognize the recipients of our annual Hearts & Minds awards, which recognizes deserving team members who exemplify Lifemark's values every day.
The 2021 National Award recipient is Vanessa Quenneville of Physiothérapie Universelle. Vanessa, a Clinic Director, is also a Clinic Operations, Quebec business segment recipient.
Congratulations to our other business segment Hearts & Minds award recipients:
Lauren Capizzo, Case Coordinator, Viewpoint, Toronto, ON.
Morgann Stiles, Clinic Director, Occupational Therapist, Lifemark Colchester, Truro, NS
Daniela Darilova, Care Coordinator Manager, Lifemark, Whistler, BC
Renee Knowles, Physiotherapy Assistant, Lifemark Tecumseh, Windsor, ON
Shaznin Munshi, Physiotherapist, Community Advantage Rehabilitation, ON
Emilie Zips, Manager of QA, Medical Legal Services, AssessMed, Mississauga, ON
Misha Fotouhieh, Physiotherapy Assistant, The Brant Centre, Burlington, ON
Amanda Grant, Clinic Director, Kinesiologist and Dietician, Portland and Westphal, Dartmouth, NS
Hadi Nemati, Physiotherapist and Clinic Director, pt Health, Main and Gerrard Physiotherapy, Toronto, ON
Josie Fidalgo, IT Helpdesk Team Lead, Burlington, ON
Véronique Boulais, Véronique Boulais. Kinesiologist, Physiothérapie Universelle, Langelier, QC
Alexia Mitchell, Care Coordinator, Lifemark Royal Oak, Calgary, AB
Mutsa Jeche, Occupational Therapist, Lifemark Grande Prairie, AB
Bojana Petrovic, Care Coordinator Manager, Pro Physio Riverside Court, Ottawa, ON
Kelly Wendt, Occupational Therapist, Lifemark Tecumseh, Windsor, ON
"Described by peers as always being there for the team as a coach or mentor, remembering birthdays and organizing events, providing special attention to patients or clients when they needed it the most, as well as countless other caring attributes, these exceptional team members have made a lasting impact on our team, patients and clients during a challenging year" said Dave Reddy, VP of Human Resources, Lifemark Health Group. "On behalf of Lifemark, we congratulate and thank all of our recipients as well as all team members nominated for Lifemark's Hearts and Minds Awards."
About Lifemark Health Group
Lifemark Health Group is a market leader in customized healthcare solutions. With over 20 years of service excellence, Lifemark Health Group is one of the largest, most trusted, and most comprehensive providers in Canada with 3 million patient visits annually. As a national healthcare company, Lifemark Health Group employs over 5,000 highly trained clinicians, medical experts and team members in over 300 locations coast-to-coast. The company aims to be the most innovative healthcare provider in community rehabilitation, workplace health and wellness and medical assessment services.
Lifemark is the rehabilitation division of Lifemark Health Group.  As Canada's largest physiotherapy company, Lifemark is passionate about enriching the health of Canadians through movement. Patients receive quality care from a family of Lifemark brands including pt Health, Physiothérapie Universelle and Pro Physio and Sport Medicine Centres. Lifemark's experienced clinicians help patients reduce pain, increase mobility and get back to life.
For media inquiries, please contact
Brenda Grob
Lifemark Health Group
(416) 873-0517
[email protected]