Physiothérapie Universelle recognized for excellence in teaching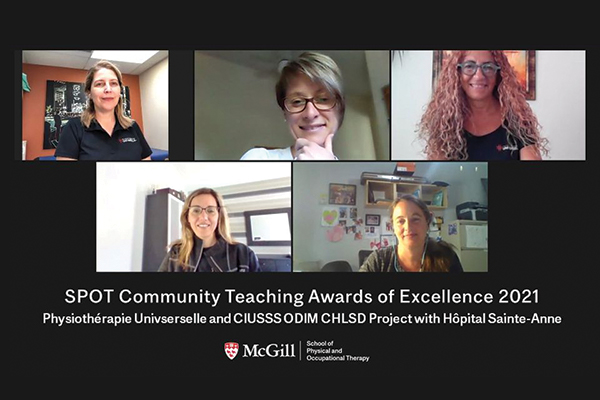 Toronto, ON – June 21, 2021, Lifemark Health Group is pleased to announce that Physiothérapie Universelle, a division of Lifemark, was recognized with a SPOT Community Teaching Award of Excellence for 2020-2021.
Awarded annually at the McGill School of Physical and Occupational Therapy Spring Clinical Day, this award recognizes the outstanding contributions to occupational and/or physical therapy clinical education of a clinical site, community organization or program.
Through Physiotherapie Universelle's dedication to clinical education, they supported more than 50 physiotherapy and occupational therapy students through virtual internships. By accommodating the McGill University students virtually, the team created a safe work placement for students and helped to pave the way for these future leaders to make a profound impact on both accessibility and quality of patient care using virtual care.
"Many students have faced restrictions on their placement opportunities because of the COVID-19 pandemic," said Léna Mardelli, Director of Development and Regional Director at Physiothérapie Universelle. "Despite challenges, we continue to welcome and accept students into a learning environment where they can feel inspired to pursue careers in physiotherapy and occupational therapy. We are grateful to McGill University for the recognition of our virtual learning program, and their openness to innovate."
About Lifemark Health Group
Lifemark Health Group (LHG) is a market leader in customized healthcare solutions. With over 20 years of service excellence, LHG is one of the largest, most trusted, and most comprehensive providers in Canada. As a national healthcare company, LHG employs over 5,000 highly-trained clinicians, medical experts and team members in over 300 locations coast-to-coast. The company aims to be the most innovative healthcare provider in community rehabilitation, workplace health and wellness and medical assessment services.
Lifemark Health Group was honoured to receive the Employee Recommended Workplace award in both 2018 and 2019, and the Canada's Most Admired Corporate Cultures™ award in 2019. With patient satisfaction ratings above 90% and many clinics accredited by CARF and Accreditation Canada, Lifemark's patients and customers always receive the highest level of care for their rehabilitation needs.
For media inquiries, please contact
Brenda Grob
Lifemark Health Group
(416) 873-0517
[email protected]