Lifemark's commitment to inclusivity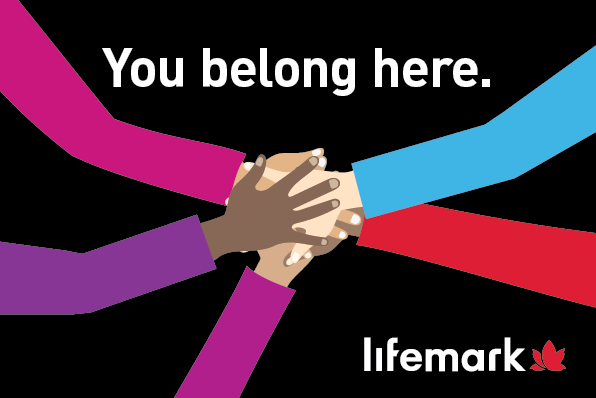 Toronto, ON – June 17, 2020 - For many years now, the Lifemark Health Group value "You belong here" has been a guiding force in our efforts to be inclusive, to listen, and to build diversity as a key strength for Lifemark, our team members, and our patients.
Lifemark stands in solidarity against racism and oppression and is committed to driving change by looking inward, to ensure that we live our values and emphasize inclusivity in every aspect of the organization.
Here's our action plan:
We are listening.
We have already started engaging with our staff across Canada as we consider how we can further contribute to positive change. We will continue to talk with and listen to our team members as they share their thoughts and ideas.   
We will ask ourselves some tough questions.
We recognize that in order to improve who we are as an organization; we need to look within to understand how we can be better. Additionally, and importantly, we are engaging outside experts in the field of diversity to work with us and ensure we bring forward the right perspectives, the very best practices and training, and make important resources available to our team members. We are committed to taking stock and addressing areas of improvement that derive from this process to enhance Lifemark and its culture.
We will build upon what we have.
We remain committed to taking care of our team members, building a diverse workforce and maintaining work environments that are free from discrimination and harassment. While we have had mandatory onboarding training for several years now that addresses discrimination in the workplace, we believe this process can be enhanced and that additional training and resources need to be made available to all staff. We must all work collectively to treat each other in a fair, honest, respectful and inclusive way.
We can do this together.
As suggested recently by one of our team members, we will create an internal Diversity and Inclusivity Committee focused on this purpose, and to help ensure accountability. We have started actively looking for passionate, driven people to be a part of this Committee.
"Coming together as a community and showing compassion for one another is more important than ever as we continue to navigate through the pandemic and promote diversity and inclusivity across our organization," said Peter Stymiest, CEO of Lifemark Health Group. "As a healthcare organization committed to caring for others, we have a role to play to help bring about meaningful change."
About Lifemark Health Group
Lifemark Health Group (LHG) is a market leader in customized healthcare solutions. With over 20 years of service excellence, LHG is one of the largest, most trusted, and most comprehensive providers in Canada. As a national healthcare company, LHG employs over 5,000 highly-trained clinicians, medical experts and team members in over 300 locations coast-to-coast. The company aims to be the most innovative healthcare provider in community rehabilitation, workplace health and wellness and medical assessment services.
Lifemark Health Group was honoured to receive the Employee Recommended Workplace award in both 2018 and 2019, and the Canada's Most Admired Corporate Cultures™ award in 2019. With patient satisfaction ratings above 90% and many clinics accredited by CARF and Accreditation Canada, Lifemark's patients and customers always receive the highest level of care for their rehabilitation needs.
For media inquiries, please contact
Brenda Grob
Lifemark Health Group
(416) 873-0517
[email protected]