The Lifemark S.A.F.E.R approach for in-person service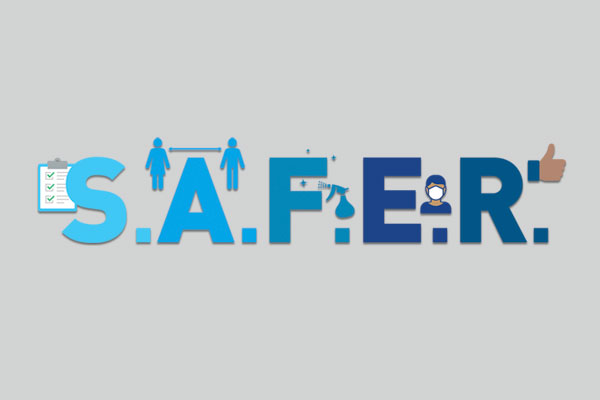 Toronto, ON – May 13, 2000 - As provinces begin to lift business restrictions, Lifemark Health Group is actively working on expanding the number of facilities available for in-person services. As the health and safety of patients and staff remains the highest priority, three key guiding principles have been developed to aid decision-making. These principles are: 1) We will provide care in the safest possible way; 2) Our values live within us, guiding us in every decision; and 3) Our mission of Movement to a better life has never been more important.
In order to stand behind these principles, we have developed the Lifemark S.A.F.E.R approach, which defines our commitment to operating safely.
S: SCREENING of all patients and staff in order to ensure safety for all
When booking an appointment, patients will complete a screening questionnaire via telephone and screened again prior to entering the clinic 
All clinic staff receive a screening questionnaire each day before entering the clinic
Face masks and hand sanitizer will be available for all patients and staff
A: ADJUSTING our Workspace to maintain social distancing
Patient appointment times will be staggered to enable social distancing, screening, and time for cleaning treatment areas and equipment
Clinic waiting and treatment areas have been rearranged to maintain 2m physical distancing with signage and floor decals as reminders
Clinic operating hours and clinician schedules will be adjusted to accommodate the above changes
F: FOCUSED EFFORTS on enhanced cleaning/disinfecting our clinics/offices
Plexiglass screen guards have been installed at all clinics at reception
Clinics will undergo a thorough cleaning each day
Following all treatment sessions, staff will clean any equipment used and all high touch surfaces such as door handles
E: EFFECTIVE usage of Personal Protective Equipment ("PPE")
Every patient will receive a mask prior to the start of their appointment
Clinics are adhering to all PPE recommendations by provincial public health authorities and professional regulatory bodies
R: REACHING the best possible outcomes for our patients and customers
We remain committed to ensuring we provide the best possible care for our patients
Patients can choose between in-person or virtual care service, or a combination of both, to best meet their needs
"We look forward to welcoming people back to our facilities, and are committed to providing in-person services in the safest manner for both patients and staff," said Peter Stymiest, CEO of Lifemark Health Group. "As we navigate this pandemic, we are doing so in alignment with the World Health Organization (WHO), Centers for Disease Control and Prevention (CDC), the Canadian Public Health Agency, Provincial Public Health Authorities and our Regulatory Professional bodies."
About Lifemark Health Group
Lifemark Health Group (LHG) is a market leader in customized healthcare solutions. With over 20 years of service excellence, LHG is one of the largest, most trusted, and most comprehensive providers in Canada. As a national healthcare company, LHG employs over 5000 highly-trained clinicians, medical experts and team members in over 300 locations coast-to-coast, and continues to grow rapidly. The company aims to be the most innovative healthcare provider in community rehabilitation, workplace health and wellness and medical assessment services.
Lifemark Health Group was honoured to receive the Employee Recommended Workplace award in both 2018 and 2019, and the Canada's Most Admired Corporate Cultures™ award in 2019. With patient satisfaction ratings above 90% and many clinics accredited by CARF and Accreditation Canada, Lifemark's patients and customers always receive the highest level of care for their rehabilitation needs.
For media inquiries, please contact
Brenda Grob 
Lifemark Health Group
(416) 873-0517
[email protected]