Lifemark Health Group named one of Canada's Most Admired Corporate Cultures™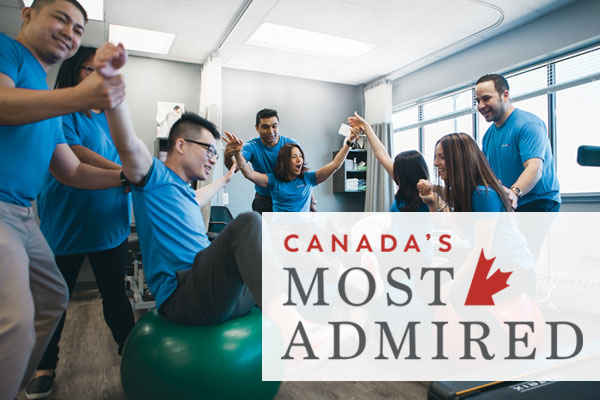 Toronto, ON November 27, 2019 – Lifemark Health Group is thrilled to announce that it has been chosen as one of Canada's Most Admired Corporate Cultures™ for 2019. Created and presented by Waterstone Human Capital, a leading cultural talent management firm for high-growth organizations across North America, the Canada's Most Admired Corporate Cultures™ program spotlights best-in-class Canadian organizations and how their outstanding corporate cultures drive performance. Now in its 15th year, the program is a mark of excellence in culture and performance.
"Lifemark Health Group is incredibly honored to receive such a prestigious award. Our team works each and every day to create a culture of caring for our colleagues, our patients, and our clients helping achieve our vision of enriching the health of Canadians.," said Peter Stymiest, Chief Executive Officer at Lifemark Health Group. "This award is truly a testament to the team's dedication to living our values. From encouraging inclusivity, to fostering mutual trust, to always making that extra effort to deliver the best possible care, our team is active in our clinics, facilities and offices across the country so that we can better serve the communities in which we live and work."
"At Waterstone we believe corporate culture drives performance and that it's an organization's greatest asset," said Marty Parker, President and Chief Executive Officer of Waterstone Human Capital and Chair of Canada's Most Admired™ CEO Awards. "What's remarkable about this year's group of winning organizations is their commitment to corporate culture and their success in leveraging that culture as a competitive advantage. They each set a high bar when it comes to building great, high performance cultures that ultimately drive organizational growth and power the performance of their teams."
About Waterstone Human Capital:
At Waterstone Human Capital, we help build high performance cultures. We're a human capital management consulting firm specializing in retained executive search, cultural measurement and assessment, and leadership training and development. We have successfully helped hundreds of entrepreneurial-minded, high-growth organizations across North America recruit, measure and train for fit. Waterstone is also the founder of the Canada's Most Admired™ Corporate Cultures and Canada's Most Admired™ CEO programs. These national programs annually recognize best-in-class Canadian organizations and CEOs, for fostering cultures that enhance performance and help sustain a competitive advantage. For more information please visit waterstonehc.com or canadasmostadmired.com.
About Lifemark Health Group
Lifemark Health Group (LHG) is a market leader in customized healthcare solutions.  With over 20 years of service excellence, LHG is one of the largest, most trusted, and most comprehensive providers in Canada. As a national healthcare company, LHG has over 5000 highly-trained clinicians and medical experts in over 225 locations coast-to-coast, and continues to grow aggressively. With that growth is a vision to be the most innovative healthcare providers in community rehabilitation, workplace health and wellness and medical assessment services.
Lifemark Health Group was honored to be awarded the Employee Recommended Workplace award in 2019 for the second consecutive year. With patient satisfaction ratings greater than 90%, and many clinics accredited by CARF and Accreditation Canada, patients and customers receive the highest level of care and outcomes for their rehabilitation needs.
For media inquiries, please contact:
Brenda Grob
Lifemark Health Group
(416) 873-0517
[email protected]
Lindsay George
Marketing and Communications Leader
Waterstone Human Capital
416-408-4545 x 227
[email protected]