Lifemark Health Group announces its 2019 Hearts and Minds award recipients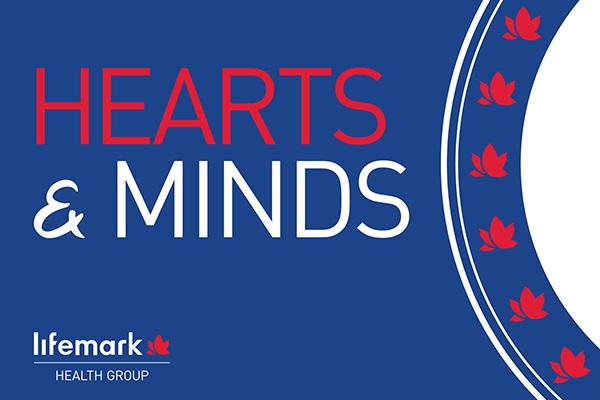 Toronto, ON November 25, 2019 – Lifemark Health Group is proud to announce the 2019 recipients of its Heart and Minds award, which celebrates Lifemark employees who live Lifemark's values every day in the communities in which they live and work and never hesitate to go above and beyond for their colleagues and clients.
For 2019, the National Heart & Minds Winner is Jeannette Jorgenson, a physiotherapist from Lifemark 64th Avenue in Langley, British Columbia. Jeannette has been the heart of the Amputee program and she continuously inspires her co-workers with her positive energy. She is a mentor who many look up because of her unwavering dedication to her clients.
A Special Recognition was also awarded this year to Natasha Pineault of Lifemark's Senior Wellness division. A physiotherapy assistant working with residents of the Madonna Care Community in Orleans, Ontario, Natasha is patient, kind and always willing to go the extra kilometre to ensure that her patients' needs are met. Her work makes an incredible difference in the lives of seniors every day.
Our other recipients for this year are:
Nelson Cuff, a Physiotherapist at Lifemark Grande Prairie in Grande Prairie, Alberta
Kristin McMahon, an Operations Manager at Lifemark Physiotherapy Amy Croft & Manning in Tecumseh, Ontario
Yolande Fraser, a Client Service Representative at Lifemark Physiotherapy Saint John in Saint John, New Brunswick
Stephanie Simpson, a Physiotherapist at Jeanne d'Arc Pro Physio in Ottawa, Ontario
Marie-Pier Vendette, a Regional Administrative Lead at Physiothérapie Universelle in Montreal, Quebec
Melinda Popa, a Document Management Team Lead for our Assessment division in North York, Ontario
Tanya Ducasse, a Client Service Coordinator for our Home Care division in Whitby, Ontario
Lourdes Orpilla, an Administrative Assistant for our Workplace Health & Wellness division in Markham, Ontario
Lia Critchley, the Creative Lead at our National Office in Toronto, Ontario
"I am thrilled to recognize the incredible achievements of this year's Hearts & Minds award recipients," said Peter Stymiest, Chief Executive Officer at Lifemark Health Group. "These tremendous individuals personify Lifemark's values from both a professional and personal standpoint and I am honored to celebrate their contributions to Lifemark's vibrant culture. Bravo!"
About Lifemark Health Group
Lifemark Health Group (LHG) is a market leader in customized healthcare solutions.  With over 20 years of service excellence, LHG is one of the largest, most trusted, and most comprehensive providers in Canada. As a national healthcare company, LHG has over 2500 highly-trained clinicians and medical experts in over 225 locations coast-to-coast, and continues to grow aggressively. With that growth is a vision to be the most innovative healthcare providers in community rehabilitation, workplace health and wellness and medical assessment services.
Lifemark Health Group was honored to be awarded the Employee Recommended Workplace award in 2019 for the second consecutive year. With patient satisfaction ratings greater than 90%, and many clinics CARF accredited (an internationally recognized accreditation rating), patients and customers receive the highest level of care and outcomes for their rehabilitation needs.
For media inquiries, please contact:
Brenda Grob
Lifemark Health Group
(416) 873-0517
[email protected]