Recognizing Canadian Mental Health Week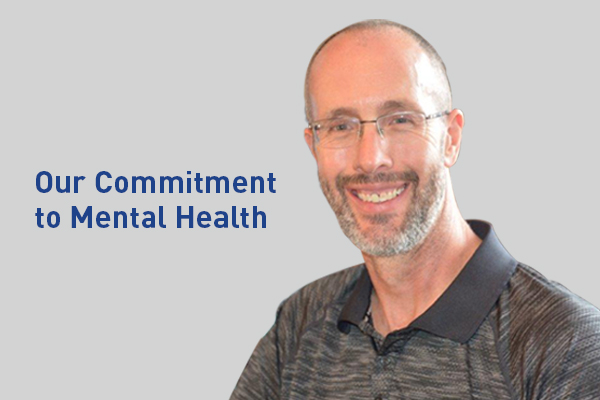 Toronto, ON – May 3, 2021 – In recognition of Canadian Mental Health Week, Lifemark Health Group is pleased to announce the launch of its mental health strategy.  Lifemark's mission of "Movement to a Better Life" is not just about physical improvements, it encompasses overall wellbeing. As a healthcare organization Lifemark is committed to promoting the mental health and wellbeing of their team, patients, clients and community.
A multi-year mental health strategy has been developed to help ensure staff have the skills to care for themselves and each other, for patients and clients in their recovery journey, and for local communities so a positive contribution can be made where team members live and work. Included in the strategy is an expansion of mental health service offering for patients and clients, so that over time Lifemark will be recognized as a mental health leader in Canada.
Keith Hanson is leading the development and implementation of the strategy, in the role of National Mental Health Lead. Over the last number of months, Keith has been working closely with leaders across the organization to develop and build the foundation of the framework and strategy. In his previous role, Keith was the Director, Workplace Health & Wellness for Ontario and Area Manager for Clinical Operations in Ontario North. Keith is the perfect person to lead this multi-faceted strategy as he successfully implemented a mental health strategy for Vale Canada, a large mining company, as their mental health lead.
"The initial focus for the strategy is geared for all of our team members," said Dave Reddy, VP Human Resources, Lifemark Health Group. "We are prioritizing mental health initiatives focused on building a shared vision and commitment towards a healthy workplace. This is an important aspect to truly create a culture of inclusivity and respect. Our goal is to create a workspace where everyone can support one another and everyone feels safe to speak openly about mental health and if needed, can seek help without fear of stigma or discrimination."
About Lifemark Health Group
Lifemark Health Group (LHG) is a market leader in customized healthcare solutions. With over 20 years of service excellence, LHG is one of the largest, most trusted, and most comprehensive providers in Canada. As a national healthcare company, LHG employs over 5,000 highly-trained clinicians, medical experts and team members in over 300 locations coast-to-coast. The company aims to be the most innovative healthcare provider in community rehabilitation, workplace health and wellness and medical assessment services.
Lifemark Health Group was honoured to receive the Employee Recommended Workplace award in both 2018 and 2019, and the Canada's Most Admired Corporate Cultures™ award in 2019. With patient satisfaction ratings above 90% and many clinics accredited by CARF and Accreditation Canada, Lifemark's patients and customers always receive the highest level of care for their rehabilitation needs.
For media inquiries, please contact
Brenda Grob
Lifemark Health Group
(416) 873-0517
[email protected]